In the not too distant past my husband and I hosted the wedding of our youngest son at our home. The October wedding was beautiful and memorable and absolutely perfectly imperfect.
It is no small undertaking to have a wedding in your garden, so my advice is to be prepared. Just as you would not wake up one day and say "I think I will direct a broadway musical" without ever having done it, you can't throw a huge bash like a wedding (or even a small wedding like we had), and pull it off well, without experience, or the help of a wedding planner who is experienced in outdoor weddings. In our case I have participated in outdoor events while working at Mourning Cloak Ranch and Botanical Gardens for four years. I was often on hand to help out while watching the vastly experienced Maria Aguirre pull off her magic with feeding big crowds from events that spanned casual garden lunches to formal dinners to Christmas buffets. We had Maria help us with two formal rehearsal dinners for around 35 people for two of our other sons weddings, so bumping it up to 50 guests did not seem like to much of a stretch, right? Wrong! An actual wedding is a much more involved.
Our decision to do the wedding in our garden was an easy one. Our son RJ had shared with us his dream of getting married at home a few times over the years, but of course I knew that his one day bride-to-be would be very involved in the choice of venue for the event. So when she asked us if it was a possibility of course we said yes. We had about two months to prepare and a shoe string budget, but we were determined to make it a memorable day. Lucky for me I have two other daughters-in-law who are capable, talented women. One of them is considering event planning as a future career. I quickly delegated all decorating, and table setting to her. I had a few other friends whom I delegated different portions of the preparation to, and gave each a budget. I had my landscape crew start grooming the grounds in preparation for the big day. This was a great reason to complete all the pathways and bring in a few fresh plants to spruce up the garden! The groom climbed trees and strung lights to create a magical evening setting and we finished our fire pit area that would do double duty on the wedding day the actual ceremony (minus the fire pit that day).
The way our yard is set up the ceremony was held at the bottom of our slope in the back yard. There was plenty of space on the deck for guests to comfortably view the ceremony, we also have a patio between the deck and fire pit area that was just the right size for the grandparents to be seated and for the string quartet to provide the perfect accompaniment for the ceremony. A beautiful, broad pathway made for a grand entrance by the bride. In the end we invited guests to gather around on the pathways that were closer to the fire pit area, if they wished, and a few found seats on obliging boulders that were nearby as well. It was charming! and the ceremony was relatively short so no one was uncomfortable standing.
Our little two year old granddaughter was to be the flower girl, problem was she fell asleep about 30 minutes before the wedding ceremony. Her other grandma (Mimi) tried to gently wake her and bribe her with chocolate to happily walk down the path and strew her rose petals. What really happened was that she ate the chocolate, and still cried with her Mimi coaxing her down the path about half way then her daddy (a groomsman) carried her down the aisle with chocolate dripping down the corners of her mouth, and tears rolling down her cheeks, clutching her basket. Although not a perfect scenario, it was adorable!
After the ceremony we quickly got to serving dinner and did not make our guests wait too long. We attempted to keep the guests comfortable by providing heating on the deck and seated the grandparents together just inside, leaving the sliding doors open, so they could view everything but not be chilled by the cool October evening. After dinner the patio that had served to seat grandparents and the string quartet became a small dance floor and the lighting in the trees created a magical environment.
The wedding was a huge success and although there were a few hitches, we just rolled with it and enjoyed the moment. This would not have been possible without a lot of forethought and planning. Here are some things to consider if you want to plan a wedding in your garden:
Mother Nature must be your first consideration. Spring in Tehachapi is often cold, so I would recommend not planning a wedding outside till, at the earliest, the end of May through October if the weather holds. Have a back up plan for holding it indoors if it decides to rain or snow (we get the occasional freak snow storms well into June and I've heard it even snowed on the 4th of July once). Consider reserving a tent as a backup plan. Your back up plan must be one you can live with if the weather does not cooperate, so give it some thought.
Consider where the sun will be at the time of day and the month of the year you are planning the event. I our case we did not realize the sun would be in the brides face during the ceremony, because when we were planning it earlier in summer the sun was higher in the sky than it was in October, and the ceremony was well under the trees.
Bugs may visit and allergies may flare when having a garden wedding so be prepared. Just before the ceremony we discovered the string quartet were standing over an ant hill, we quickly grabbed the ant spray and they were fine. Make sure there are no plants blooming in the area of the ceremony that may cause bad allergic reactions to people involved.
Dress for the weather and make sure to have shawls or wraps for people who may not be prepared if the weather turns cold.
Think like an electrician and delegate someone to familiarize themselves with how many amps and circuits are available to make sure you have the electricity you need for the deejay or band, caterer, lighting, fans, or photo booth. Decide if you need a backup generator. Use U shaped landscape steaks to pin down electrical cords in the garden, to avoid tripping.
Depending on the size of the crowd, the span of time the wedding will encompass and whether or not you are serving alcohol, you may want to consider renting a portable restroom. There are some very nice ones available for events. Decide whether you need a ramp for easier access by elderly or disabled guests. you should have one restroom per 50 to 100 guests.
Count the costs. If you need a lot of extras like a tent, portable toilet, kitchen rental, valet parking, furniture storage and a cleaning service for before and after the event, the costs may not make having it at home much cheaper than renting a venue. In our case I hired help for cleaning before and after, and did not need any of the other services listed here, so it was very affordable to have the wedding at home.
The intimate setting and magical mood of home and garden created the backdrop for a lovely day. Memories that were created that day were well worth the cost and time it took to plan and pull off a garden wedding. For us there truly was "no place like home"!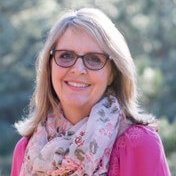 About the Author
Anna Smth