Purple Smoke Bush is one of those plants that has so many good qualities that I use it over and over in garden design.
The leaves emerge a reddish purple in spring, deepening to a rich, deep purple in summer, changing to a flaming red-orange in fall.
This plant is sure to capture attention in the landscape.
It's ability to recover beautifully from any amount of pruning makes it ideal for many garden situations.
Even if you cut it to the ground it can survive and thrive the next year, coming back as a small shrub. However, I prefer to let it grow to larger proportions so the flower panicles and saturated color can create a focal point in the garden. This leads some people to call it Smoke Tree. The common name comes from dramatic puffs of "smoke" that are left as the small flowers fade, leaving behind fuzzy pinkish hairs on elongated stalks.
The only drawback to Smoke Bush is its slow growth rate in the low water garden.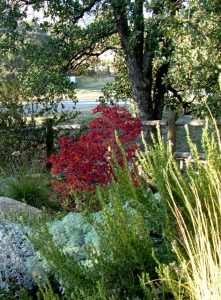 I have it in one of my xeric garden zones and it has only grown to four feet in five years. With more water it would be taller by now. However, its slow growth has never stopped me from admiring it with my silvery 'Powis Castle' Artemisia, Muhlenbergia capillaris grass, and upright Rosemary officinalis in my west garden.
I tell my clients the only way to make sure you are getting the plant you are really looking for is to ask for it by it's botanical name. In this case- Cotinus coggygria. Hybrids abound and there are even  green leafed varieties that have striking fall color that range from gold to orange and reddish purple.
Plant Purple Smoke Bush in full sun for the deepest color. It is cold hardy to well below zero. It can grow to fifteen feet tall in as many years. It is adaptable to a variety of soils and ph ranges, but prefers a well drained, lean soil that is not too wet.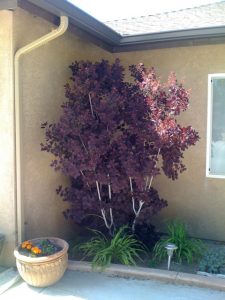 Do you have any favorite plant combinations with Purple Smoke Bush? I would love to have you share them with me in the comments.