The instant gratification of planting a container is irresistible to me.
I have no more ground left for new plantings, but the possibilities for planting up a new container are endless.
Containers have many roles in my garden. They offer versatility, mobility and of course, a major focal point. I use them to punctuate major transitions, moving from one area of the garden to another. They flank my front door, garden paths and deck.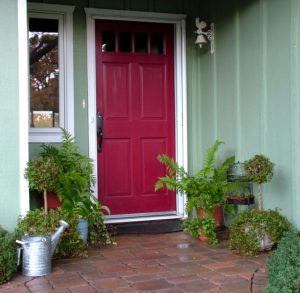 Picking a Pot:
The first consideration is the pot. Considering the style is important, and taking cues from the architecture of the house, or the style of the garden is akin to picking the right shoe to complement an outfit. Classical urns look just right on a stone or brick patio, or accenting the entry of a formal home. On the other hand, clean lined geometric pots can look great in a modern style garden. You can get creative with containers and even repurpose something old, like I have done, when I choose to plant in an old rusty wheel barrow.
Deciding if the pot is the focal point, or the plants will take center stage plays into the decision as well. Neutral color pots will allow the plants to shine, while vivid colored or highly decorative pots will grab attention and should be planted with a limited palette of plants to showcase the pot.
Practical considerations play a role in choosing the perfect pot as well. In many locations having lightweight pots is an advantage, but here in Tehachapi I am just as often looking for a concrete container that can stay put in a windy location. Shape is another consideration: straight sides, or ones that flair out at the top allow easy access. Wide, shallow bowls are a favorite for growing a season of colorful annuals, but if you are planning to plant up a mix that includes ornamental grasses or a conifer you will need a deep pot that will allow the roots to have some room for the more permanent planting.
If it is a large single specimen you desire, such as a small tree, then it is wise to consider how practical it will be to maintain the container year to year. I invested in some very classy large, white plastic pots, that match the trim on my house and one of them contains a Sweet Bay tree that has been in place for at least five years. Every year or two I lay that pot on its side, slide the tree out, remove some of the old potting soil, then prune the roots, stand it back up and replace some of the potting soil. This keeps the tree looking its best, and the pot is lightweight enough to keep this two man job manageable.
Plastic and glazed pots are non-porous which keeps the roots moist longer than porous materials such as terra cotta. I love the patina that develops on terra cotta over time, but the pots have a tendency to crack in our cold winters. So when using terra cotta I choose annuals that die at the first frost, then store the pots in the garage in the winter. I have a fair amount of bulbs that also overwinter in my terra cotta pots. The tricky part is to remember to water them once in a while so that they don't dry out completely for long periods of time because the bulbs will shrivel up and die if too dry for too long.
Make sure the container you choose has drainage holes. A layer of stones in the bottom is not enough to stave off root rot in the heat of summer. Most plants do not like their roots drowning in water at the base of a pot. I have successfully drilled holes in the bottom of many types of pots by using the appropriate type of bit. You can cover the hole with screening material or porous landscape cloth. This keeps the soil in and lets the water drain out.
Share your ideas for pots that have been successful for you. I would love to read your comments!